Mississippi Immigration Attorney
Dale Schwindaman is an experienced immigration lawyer in Mississippi who ensures the accurate and timely processing of your immigration matters. Schwindaman Law Firm assists clients with immigration needs in Mississippi, northern Louisiana, southern Arkansas, Alabama, and throughout the U.S. Our special combination of knowledge and experience, personal attention to each client, reasonable rates, and successful track record set us apart from other immigration lawyers in Mississippi.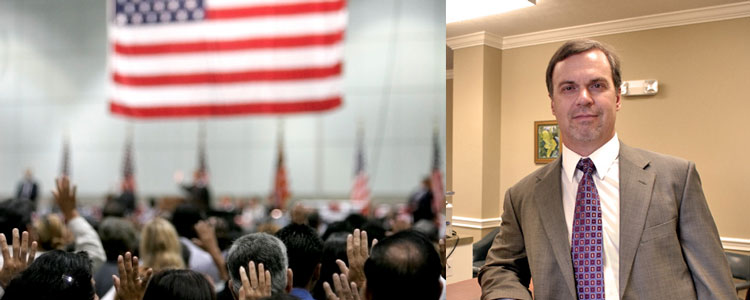 Dale Schwindaman is a professional immigration attorney, staying up to date on the latest news, procedures, and laws in the constantly-evolving world of immigration law.
Schwindaman Law Firm expertly handles:
Adjustment of status (from within the U.S.), green card, spousal, and other family-based cases (I-485 form)
H-2B status for employers seeking large numbers of reliable foreign workers
Fiancees, Spouses, Parents, Children and Siblings of U.S. Citizens and Permanent Residents (I-130, I-129 forms)
Consulate visa processing
Citizenship cases (N-400, N-600 forms)
Green card (permanent visa) cases for workers skilled in professional, technical, and non-professional fields
Work permits for non-citizen professionals and workers in specialty occupations (H-1B)
Intra-company transfers (L-1)
Treaty trader/investor status (E-1, E-2)
U.S. spousal cases (adjustment of status)
Student status (F-1)
Other temporary visas
Deportation and asylum cases